| | |
| --- | --- |
| Posted on November 4, 2015 at 11:48 PM | |
There's a new release coming in the Need Series line-up. 
I Need You Too - Need #4 is coming November 12, 2015. 
With the holidays approaching, the pre-order and introductory two weeks price will be $0.99. To Pre-Order: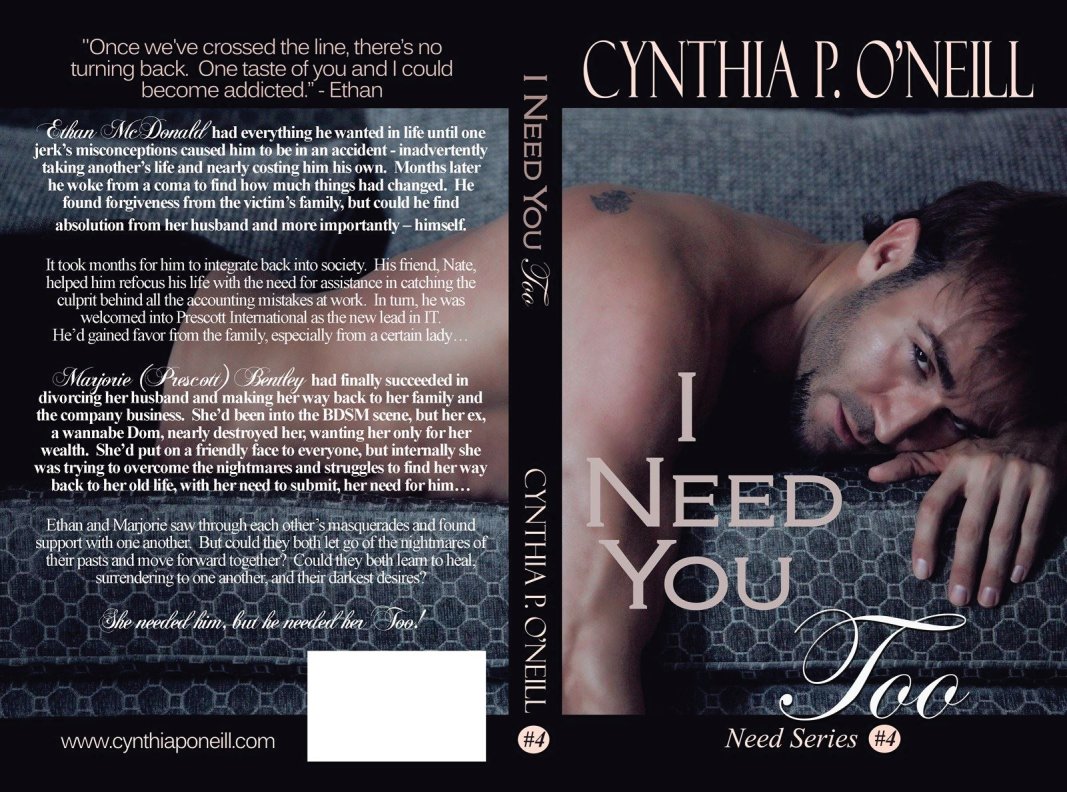 This is a Complete Novel. No cliffhanger. Dual POV. Rated 18+ due to adult language and sexual content. This is an adult contemporary erotic romance filled with suspense, light BDSM, Dom/sub play, and touching on some psychological elements. This series centers around the Prescott family, their friends, and businesses. It includes unsavory characters, a horrid ex-husband, and a security team, made up of ex-military personnel, that will go to any lengths to protect this family. These are stand alone books that create the series, but they do not need to be read in order. The story is more enhanced if read in order.

I Need You Always, Need #1
I Need You Now, Need #2
I Need You Here, Need #3
I Need You Too, Need #4
I Need You Forever, Need #5 - Coming February 2016

Ethan McDonald had everything he wanted in life until one jerk's misconceptions caused him to be in an accident - inadvertently taking another's life and nearly costing him his own. Months later he woke from a coma to find how much things had changed. He found forgiveness from the victim's family, but could he find absolution from her husband and more importantly – himself.

It took months for him to integrate back into society. His friend, Nate, helped him refocus his life with the need for assistance in catching the culprit behind all the accounting mistakes at work. In turn, he was welcomed into Prescott International, as the new lead in IT. He'd gained favor from the family, especially from a certain lady…

Marjorie (Prescott) Bentley had finally succeeded in divorcing her husband and making her way back to her family and the company business. She'd been into the BDSM scene, but her ex, a wannabe Dom, nearly destroyed her, wanting her only for her wealth. She'd put on a friendly face to everyone, but internally she was trying to overcome the nightmares and struggles to find her way back to her old life, with her need to submit, her need for him…

Ethan and Marjorie saw through each other's masquerades and found support with one another. But could they both let go of the nightmares of their pasts and move forward together? Could they both learn to heal, surrendering to one another, and their darkest desires?

She needed him, but he needed her Too!

Categories: None
/