Thank you to all that stopped by for the Blog Hop.  It warmed my heart to see so many comments posted. 

I know the hop has been over for some time and I want to offer my sincerest apologies for being late on delivering the free books promised.  I was able to get some out before  my family and I got sick and then had a family emergency all hit within a couple of weeks. 

Since I'm a newer author, I don't have a personal assistant or anyone to help me get the things I need to do - done.  But, know that I'm working as quickly as I can to make things right with everyone and to those who've been patiently waiting, I am throwing in a little something extra.  So please know, your books are coming.  I do follow through on my promises, just doing it a little slower than I'd like thanks to circumstances. 
Thank you for your patience. 

UPDATE - I've replied to ALL the comments!!!  WOOHOO!!  I did, however, have a couple come back as undeliverable, with the email address given. 

Friday, December 19, 2014
Jingle Bell Book Hop:   Free Books and Giveaways!

Welcome to the Jingle Bell Book Hop!
Christmas is one of my favorite times of year.  It's not because of the gifts, the sweets, or even how crazy things get this time of year.  Actually, I could do without all that.  Instead it's the special memories, times with family, and the love you feel this time of year. 
I guess I inherit my love for Christmas from my parents, especially my father.  He passed away over 16 years ago.  I think of him often, but it's not around his birthday, or when he passed, but I miss him most at Christmas time.  He taught me to decorate and bring joy to others through your decorations, sharing what you could at Christmas, as well as all year through, and to just enjoy what the season stands for, which is Love.
Every holiday, he'd pick oranges from one of our orange trees and we'd juice fresh oranges for all the neighbors and friends.  Mom would do some baking, which I later joined in doing, and we'd gather all the items up and go deliver them to everyone. 
While these memories make me warm and fuzzy, it's the silly times we had, when I was very young, that pop into my mind most.  One specific year we had two special memories.  My dad and I put together the Christmas tree, and wondered why the branches were so bent out of shape.  When we looked closer we discovered it was our cat stretched across four branches, sitting up in the tree, like he was king of the tree. 
The very same year, on Christmas morning, I had left a Santa cup I'd made in school, using cotton balls, felt, and a red solo cup.  I was so excited to leave it for Santa and give him a gift for Christmas.  I heard a noise in the kitchen area and found the cup dropped on the ground leading to the backdoor of our house with my dad and our cat looking out toward the sky and waving, or in the cat's case, pawing at the sky.  My dad explained that we must've been last on Santa's stops for the night.  He'd gotten up to check a noise and must've spooked Santa, so he dropped the cup and ran to jump in his sleigh. 
We've had many more memories since that time.  I think I was about eight or nine years old then.  But, that'll always be the Christmas memory that pops to mind the most.  My father could spin some Christmas stories, but I loved it and use some of his inspirations today to create my own memories with my family. 
If you're following this blog hop, you already know one of the SURPRISES is

by commenting below with your name and email, each reader gets a

FREE EBOOK from the author.
All I need is your name and email in the comments below!  Plus, whether you'd prefer a tame and swoon worthy romance from my Remembrance Series with I Remember or Loving You or a contemporary/erotica romance from A Learning Series with Learning to Trust, Learning to Let Go, or Learning to Love Again.
I write all areas of the romance scale.   Feel free to check out my website.  Who knows what hidden Holiday Treasure you might find! 
I'm running my own Rafflecopter Giveaway for a $10 Amazon Gift Card.
I hope you have a WONDERFUL Christmas and enjoy the rest of the blog hop! There are some incredible authors participating and here's your chance to fill your e-readers with 30+ amazing stories! Don't forget to enter the rafflecopter below - there are TWO Kindle Fires plus gift cards up for grabs. Then ...
https://www.rafflecopter.com/rafl/display/8657ef1c3/

JINGLE BELL HOP ... HOP ... HOP!
1.
Lacey Weatherford
2.
Kamery Solomon
3.
Belinda Boring
4.
K.A. Hunter
5.
Sherry D. Ficklin
6.
Audrey Harte
7.
Lauren K. McKellar
8.
Julie Richman
9.
Eva Pohler
10.
Michelle Graves
11.
Jackie Chanel
12.
Janet Shawgo
13.
Liv Morris
14.
DA Love
15.
Angela Goldsberry
16.
A.R. Von
17.
Jessica Gibson
18.
Pauline Creeden
19.
Kelley Grealis
20.
Melanie Karsak
21.
Cynthia P. O'Neill
22.
Helena Hunting
23.
Frankie Blooding
24.
Morgan Kearns
25.
Tijan
26.
S. E. Lund
27.
Vi Keeland
28.
Allana Kephart & Melissa Simmons
29.
Tawdra Kandle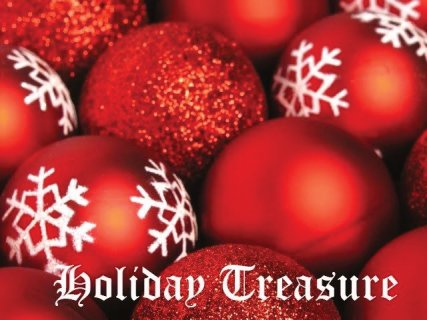 Yeah!  You found the Holiday Hidden Treasure.  :-)
/